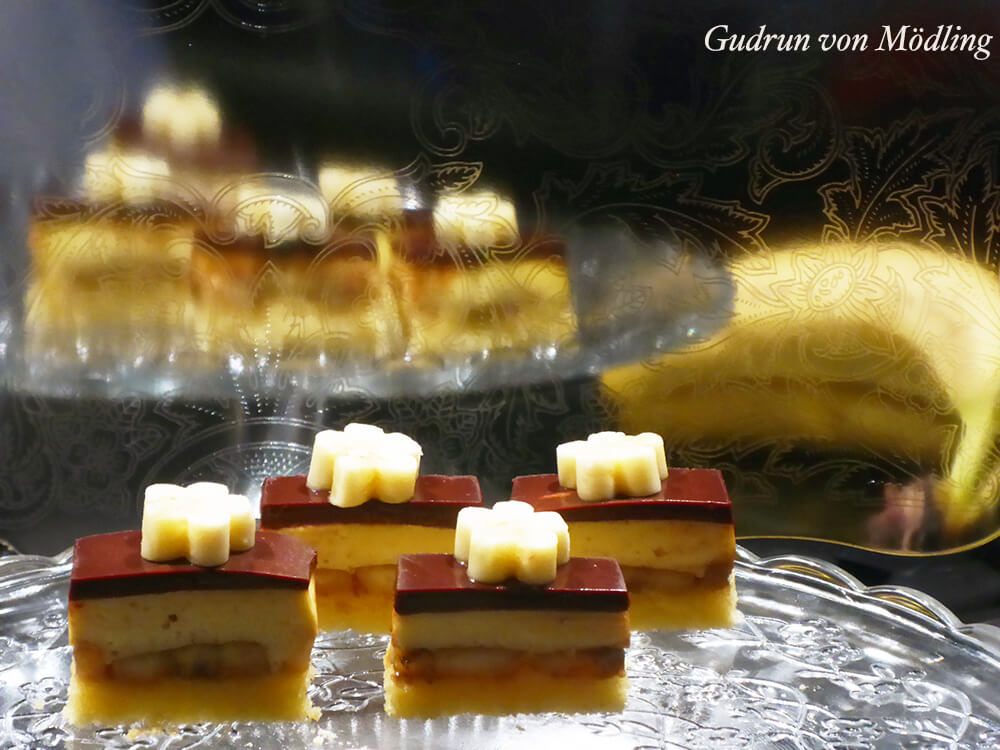 For the ground:
· 6 egg whites
· 6 yolks
· 200 g of sugar
· 1 vanilla sugar
· 200 g of flour
· finely grated peel of a lemon
For the cream:
· 250 g QimiQ Classic, refrigerated
· 500 g QimiQ Classic Vanilla, refrigerated
· 500 g of mascarpone
· 100 g of sugar
For the chocolate glaze:
· 250 g of QimiQ vanilla
· 300 g good dark chocolate
· 60 g of butter
Preparation:
Preheat the oven to 180 ° C top and bottom heat. Stir the egg whites with sugar and vanilla sugar until this is stiff. Then stir in the yolks individually. Stir in the lemon briefly. Put in the flour carfully with a whisk and spread the mixture on a baking sheet lined with baking paper and bake in the preheated oven for approximatly 15 – 20 minutes. Attention: make a stick sample. Drop onto a baking paper sprinkled with icing sugar and allow to cool down!
After the cooling down, I put some apricot jam on the floor and put a baking frame around the biscuit. Peel and slice the bananas, (mine are about 1 cm thick). Now, put the banana slices on the bisquit, coated with apricot jam.
Then put the cold QimiQ Classic and QimiQ Classic Vanilla together. Then you should add the mascarpone and the sugar and stir it properly.
Spread the cream on the banana slices and put it in the fridge.
For the chocolate glaze, I melted QimiQ vanilla, chocolate and butter together over steam and spread it on the cream. Then I put it in the fridge over night.
On the next day I cut them in to slices and decorated them with the banana flowers. I dipped the flowers in cake jelly, so they do not get brown. 🙂
Everything is quite easy! So let's start!
All the best, Gudrun von Mödling